Meet Our Friendly Orland Park, IL Dental Office Staff
The first thing you'll notice when you walk into Bosack Dental is the incredibly friendly and inviting atmosphere. Members of our staff have been hand-picked to provide you the best possible experience during your visit to the dentist. Learn more about our team below.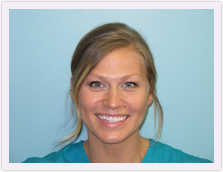 Veronica Pawlowski, RDH
Veronica Pawlowski attented St. Xavier University on the south side of Chicago, where she was born and raised. During this, she worked as a dental assistant, which inspired her to pursue a career in the dental field. Veronica completed her Bachelors Degree at SXU in 2005 and was honored as a member of Phi Theta Kappa, The International Honor Society, for her scholastic achievements. From there, she went on to Dental Hygiene School at Prairie State College. In 2007, she graduated in the top of her class with an Associate in Applied Sciences and a Dental Hygiene License. Veronica was also inducted into Sigma Phi Alpha, The Dental Hygiene Honor Society. As a dental hygienst, Veronica is passionate about making her patients feel comfortable by allowing open communication and providing gentle care. She values education and enjoys sharing current information and tips which promote oral and overall health. Upon completion of her Masters Degree in Education at SXU in 2015, Veronica also plans to teach in the dental hygiene school she attended. In her free time, she enjoys staying active by running, cycling, and visiting family in Arizona.
"Your day will go the way the corners of your mouth turn...so smile!"
Kelly Rangel, RDH
My name is Kelly Rangel and I live in Oak Forest with my husband and two little boys. My boys Roberto (6) and Cooper (3) keep me on my toes. They love adventure and are constantly reminding me to live in the moment and not take life too seriously. My husband and I own our own business which keeps us very busy. We are about to celebrate our 10 year wedding anniversary and love adventure as well. In high school I started working in a dental office and I knew this was the career for me. I decided to pursue dental hygiene because I knew in time I wanted to become a mother. Dental hygiene allows me to have a career I love and still be able to be with my babies. I graduated in 2007 from PSC with an Associates in Applied Sciences. My favorite aspect of hygiene is developing an ongoing relationship with patients. I truly care for each patient and try to bring the most current information and product recommendations to each visit. My free time consists of play dates, spending time with family and friends, cooking and working out.
Angela Becerra, Dental Assistant
My name is Angela Becerra. I am from the south side of Chicago. I have been a Dental Assistant for the past 13 years. I have three children ages 20,14, and 8. One of the things I enjoy most about dentistry is to see how changing a patient's smile transforms their lives. In my free time I like to spend time with my family and friends.
Jerri Lacher, Dental Assistant
My name is Jerri Lacher and I have been a dental assistant for 15 years. I really enjoy dental assisting because I like to talk and meet new people. Most people say that I am a people person.
I was born and raised in Orland Park. I now live in New Lenox with my husband David and my three daughters: Brittany, Leah and Alyssa.
Moira Allison
My name is Moira Allison and I currently live in Orland Park. I am a recent graduate of the University of Illinois Urbana- Champaign with a degree in Food Science and Human Nutrition. In the near future, I hope to become a Registered Dietitian.
Amanda Gunn
My name is Amanda Gunn. I am from Oak Lawn and a graduate from Moraine Valley with an Associates in Science. I am about to start my very first semester in Dental Hygiene! I love working in the dental field and the ability to meet so many different people. I look forward to someday helping to brighten your smile!
Megan Walsh
My name is Megan Walsh and I currently live in Tinley Park. I am a recent graduate of the Universtiy of Illinois Urbana-Champaign. I will be furthering my education in nursing this fall.
Alyssa Koce
My name is Alyssa Koce. I am currently living in Oak Forest with my wonderful son. I have been a medical assistant for about three years and plan to continue my career in the medical field.